"Love It or Leave It"
Go Back Where You Came From
At a campaign rally in Greenville, NC, Donald Trump stood and watched as his supporters repeatedly chanted "Send her back. Send her back."
The crowd was referring to U.S. Congresswoman, Ilhan Omar. At the rally, Donald Trump was continuing his attack against Congresswoman Omar and three other Congresswomen. The other three Congresswomen are Alexandria Ocasio-Cortez, Ayanna Pressley, and Rashida Tlaib.
It all began when Trump tweeted that the four U.S. Congresswomen needed to "go back" to the countries they came from. Three of the four Congresswomen were born in the United States. Congresswoman Omar came to the U.S. as a child and became a naturalized citizen when she was a teenager.
Love it or Leave it
One day after his tweet, Trump stated regarding the four Congresswomen, "If you hate our country, if you're not happy here, you can leave."   Trump's comments marked the beginning of his effort to reinvigorate the age-old racist trope, "Love it or Leave it."
Trump made this trope explicit in his Greenville rally. In his remarks, Trump told the crowd: "You know what, if they don't love it tell 'em to leave it."
While Trump claims he opposed the "send her back" chant and tried to stop his supporters, video evidence contradicts his claim.
While Trump (and many of his supporters) claim his "go back where you came from" and "love it or leave it" comments are not racist, they both have long ethnic and racist histories. Phrases like "go back where you came from" have consistently been used against ethnic and racial others considered a threat to white racial dominance.
Racist Rhetoric
Trump's "love it or leave it" rhetoric specifically harkens back to responses given to Vietnam and civil rights protesters. While Nixon and his supporters frequently denied charges of racism, Nixon's campaign and presidency are commonly recognized now as having been rooted in racism.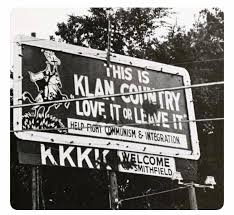 As a 1970s Klu Klux Klan billboard reveals, the phrase, "Love it or Leave it" has clear racist roots. The billboard stood along U.S. 70 in Johnston County, NC. The billboard said, "This is Klan Country. Love It or Leave It. Help Fight Communism & Integration. KKK Welcome to Smithfield."
Interestingly, Smithfield, NC is only 55 miles from Greenville, where Trump held his rally. It was the perfect place for Trump to invoke his "Love it or Leave it" rhetoric. 
Reviving Communism
Like the "Klan Country" billboard that linked communism and social justice protests made by black people, Trump associated the four U.S. Congresswomen with communism. In his speech, Trump stated, "They're socialist definitely. As to whether or not they're Communists, I would think they might be."
This linking of communism and social justice protests made by black people was a common racial trope of the time as well. Martin Luther King, Jr was commonly referred to as a Communist, even though he explicitly rejected Communism.
King was also vehemently criticized by white liberals allies after he began speaking out against the Vietnam War and criticizing America's militarism and materialism. Nearly seventy-five percent of Americans disapproved of King after his criticism of the war and economic disparities.
An editorial in the April 6, 1967, Washington Post said King "has done a grave injury to those who are his natural allies … and … an even graver injury to himself." The Post continued, "Many who have listened to him with respect will never again accord him the same confidence. He has diminished his usefulness to his cause, to his country, and to his people." King's criticism of America had risen to a level that most white Americans considered "unpatriotic."
Race and Patriotism
The "Love it or Leave it" rhetoric employed against black and brown critics of America suggests that only certain people have the right to criticize America. The right to criticize America is reserved for white Americans like Trump.
When Trump was campaigning for President, he was an avid critic of the country's policies. He called America a "laughingstock" and said, "The American dream is dead." And yet, he never felt a need to leave.
Why was it okay for Trump to criticize and speak harshly of America? Why are four black and brown Congresswomen told to go back where they came from when they criticize America? Black and brown Americans are frequently presented as "unpatriotic" when they criticize or make disparaging remarks about America, but such is not the case with white Americans.
Trump was praised for "telling it like it is" when he repeatedly criticized America during his 2016 Presidential campaign. Michelle Obama, however, was raked over the coals during the 2008 Presidential campaign when she said, "For the first time in my adult life, I am really proud of my country." Why was Michelle Obama criticized for expressing a newfound pride in America while Donald Trump was praised for expressing disgust in America?
While it is often far more acceptable for white Americans to criticize America, when a black or brown person does so, they are quickly identified as "unpatriotic" and often told to leave. This is the strategy Trump used when talking about Colin Kaepernick.
During his 2016 Presidential campaign, Trump frequently criticized Colin Kaepernick for protesting police brutality by declining to stand during the national anthem. Trump said about Kaepernick, "Maybe he should find a country that works better for him."
A year later, Trump launched a vitriolic attack against NFL players (most of whom were black) who kneeled in protest of the national anthem. At an Alabama rally, Trump stated, "Wouldn't you love to see one of these NFL owners, when somebody disrespects our flag, to say, 'Get that son of a bitch off the field right now.'"
As the NFL protests continued the following year, Trump stated, "Maybe they shouldn't be in the country." He also rescinded a White House invitation to the Philadelphia Eagles after it became clear that most of the team's players didn't want to come. Trump declared, "We love our country, we respect our flag, and we always proudly stand for the national anthem."
When black and brown Americans criticize America it is frequently depicted as "hating America." That's rarely the case, however, with white Americans. In 2016, Megan Rapinoe followed Kaepernick's lead in kneeling during the anthem. The following year, her U.S. teammate Becky Sauerbrunn joined Rapinoe in staying in the locker room during the playing of the anthem. Trump did not attack either woman at the time.
When asked about going to the White House if the U.S. Women's soccer team were to win the World Cup, Rapinoe responded, "I'm not going to the fucking White House." She went on to say, "we're not going to be invited."
Trump's response to Rapinoe consisted primarily of criticisms of the NBA and remarks that protesting is very bad. Trump stated that Rapinoe was wrong and that he would invite her and her teammates to the White House. Unlike his comments regarding Kaepernick, Trump never suggested that Rapinoe leave the country or return to her family's ancestral country of origin, Italy.
This Land is Mine
In response to Trump's original tweet, "If you hate our country, if you're not happy here, you can leave," Congresswoman Alexandria Ocasio-Cortez articulated genuine patriotism and love for her country. She responded, "We don't leave the things that we love, and when we love this country what that means is that we propose the solutions to fix it."
Criticizing America in order to make it better — in order to make it just and equitable for all people — is not a sign of hatred of America but rather a sign of belief in and love for America.
This belief in and love for America is possibly best expressed in the 1936 poem by Langston Hughes, "Let America Be America Again."
While "unhappy" in America, Hughes' criticism of America expressed his love of and hope for America:
O, let my land be a land where Liberty
Is crowned with no false patriotic wreath,
But opportunity is real, and life is free,
Equality is in the air we breathe.
(There's never been equality for me,
Nor freedom in this "homeland of the free.")
This love of and hope for America is one of the reasons why Hughes (and we who criticize America) refuse to "leave it."